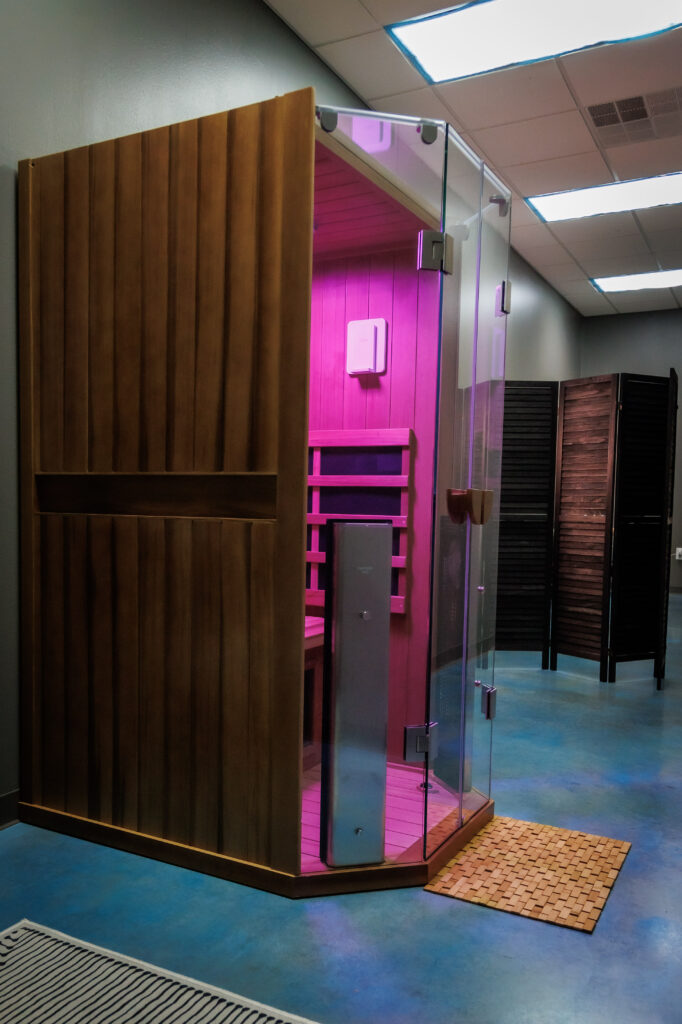 Infrared Sauna What to expect
Enjoy a private sauna session for one, in our sauna room.
​
You'll enjoy 40 minutes in a Full Spectrum Clearlight Sanctuary Infrared Sauna by Jacuzzi, in a private room. We provide you with a towel to sit on, a towel for your feet, and a small invigorating eucalyptus towel for after your session.
You may wear swimwear if you prefer being covered. You're welcome to Choose your temperature and crank it up or cool it down, based on your preference.
You have the option to Listen to relaxing music, an upbeat station or choose silence.
You'll begin to sweat within 20 minutes and deep sweating happens with multiple sessions.
Included in our full spectrum infrared saunas is medical grade chromotherapy, which is a great way to energize, awaken and heal.
Halotherapy (salt therapy) can be added to any session for just $10.
Hydration is essential to your experience, so please arrive hydrated.
Infrared Sauna Benefits
The top 10 benefits of an infrared sauna:
Lowers stress
Reduces fatigue
Relieves pain
Improves sleep
Improves mood
Increases circulation
Eases joint pain and stiffness
Helps with Weight Loss
Stimulates Detoxification
Improves skin
Infrared Sauna Pricing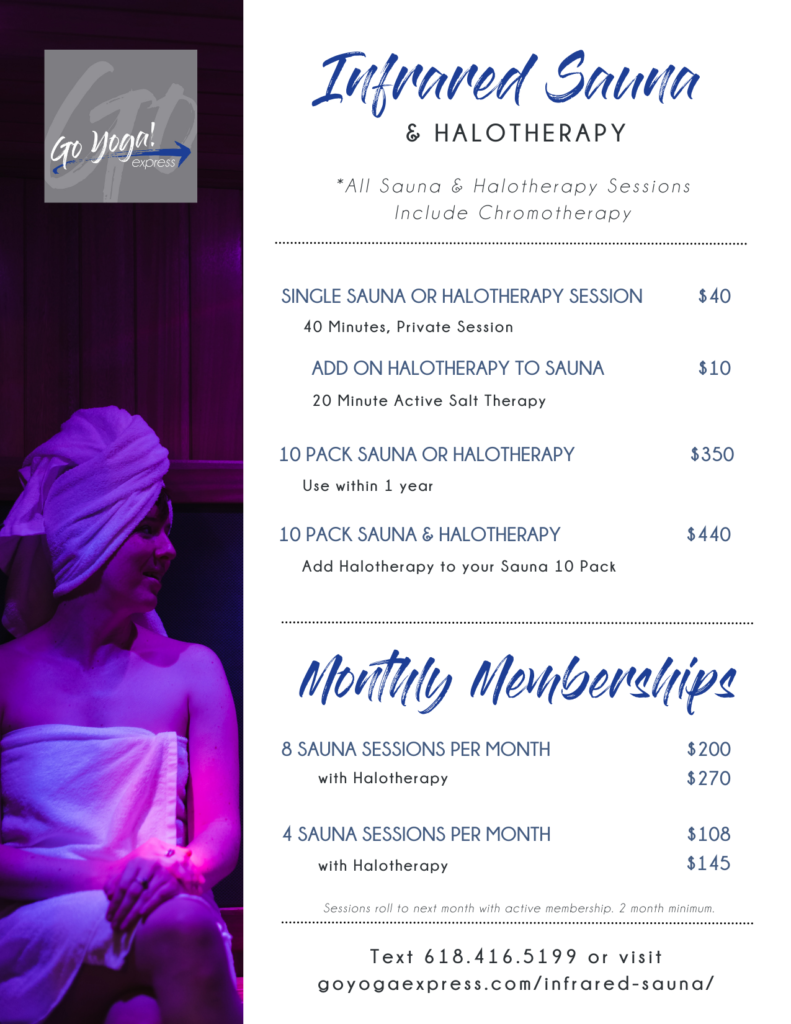 Frequently Asked Questions
Booking on the hour and how long is a session?
We book at the top of the hour so you can enjoy a full 40 minutes. We allow a couple minutes to get in sauna and approximately 5 minutes to change afterwards to keep on schedule. If arriving late, we may have to deduct time. If you desire more time after session to get ready, you can reduce time in sauna.
​
Do you have showers and changing rooms?
The private sauna room is the changing room. We don't offer showers. We recommend to let the body cool down and pores close for at least 30 minutes after session before showering.
​
What do I wear?
The more skin exposed to the infrared, the better. Most use a towel only or swimsuit. You may want to bring loose clothes to change into. We offer 1 full-size towel. You can rent additional for $5 or bring your own if you prefer.
​
How often should I visit?
To achieve optimal results, it's recommended to come 2-3 times per week. One time will help relieve stress and pain. Most clients come 1-2 times per month for maintenance and self-care.
Will I sweat first session? You may not sweat until later in your session or after a few visits.
​
Difference between infrared and traditional sauna?
The difference is the heat source. The average temperature of the infrared sauna is 125-140 degrees and heats the body. You can control the temperature. The traditional sauna uses electric or hot rocks to heat the air to 175 degrees plus. The purpose of infrared sauna is to give you maximum benefits at a lower temperature.
Halotherapy What to Expect
1 person session.
​
Enjoy 20 minutes in the Sauna/Salt Cabin, in a locked private room. And when you choose Halotherapy without the sauna, the heaters will not be turned on so the Salt Cabin will be at room temperature.
You may listen to your music of choice or choose silence.
Included in our Salt Cabin is chromotherapy, which is a great way to revitalize and energize.
Frequently Asked Questions
Who benefits from salt therapy?

Salt therapy has provided benefits for those with the following conditions:
Allergies
Emphysema
Asthma
Psoriasis
Bronchitis
Pneumonia
Bronchial Infections
Rhinitis
Chronic ENT illnesses
Sinus Infections
Cold/Flu
Sinusitis
Cystic Fibrosis
Wheezing
Smoker's Cough
Dermatitis
Snoring
Ear Infections
Stress and Fatigue
Eczema
How does salt therapy work?

Dry pharmaceutical grade salt is heated and then it is ground and crushed into very tiny microparticles in a machine called a halogenerator. Next, these dry aerosol microparticles of salt are then dispersed into the Salt Chamber during a typical session. As you breathe, the microparticles of salt are inhaled. The particles penetrate deep into the lungs, bronchi, bronchioles, and alveoli. Bacteria and pollutants are dissolved as salt enters the lungs and respiratory system by eliminating mucous and opening constricted airways.
What kind of salt do you use?

We use 99.99% pure sodium chloride (Pharmaceutical grade salt) which contains no fillers or caking agents. Our salt comes from a natural source and is processed to remove all of its impure elements. The salt is the same salt that hospitals use and is the same type of salt used in Halotherapy research.
What do I wear for my salt therapy session?

You may wear your normal clothes, we ask that you leave your shoes in the lobby before entering the treatment space. However, if you have dark clothing on, you may see a bit of salt on your clothes but it can generally be brushed off easily.
I have a cold, how often should I come?

If you have active symptoms, we recommend our week pass, which consists of 4 sessions in 7 days. Subsequently, you should visit us 1-2 times per week until your symptoms are resolved. However, if you have a fever or persistent cough, please wait until you have been fever free for 24 hours and your cough subsides a bit before scheduling an appointment."
Are kids allowed to use the salt booth?

YES! You are able to use salt therapy at any age. We allow one lap child under the age of 5 for no additional charge! Any child over the age of 5 will require their own treatment. And, you may bring a book, tablet or device to entertain them during their treatment.
When should I avoid salt therapy?

Halotherapy is a natural therapy however any clients who have any serious health conditions or women who are pregnant should always seek proper medical advice before using the HALOONE®.
Contraindications include:
Infections associated with a fever.
Contagious diseases.
Respiratory system cancers.
Tuberculosis.
Cardiac disease patients.
Acute respiratory disease.
Severe hypertension.
Chronic obstructive lung diseases.
What are the side effects?

There are typically no side effects other than the taste of salt and potentially thirst or a scratchy throat. However, if someone is on any medications or suffers from any serious medical issue please seek medical advice before any therapy.